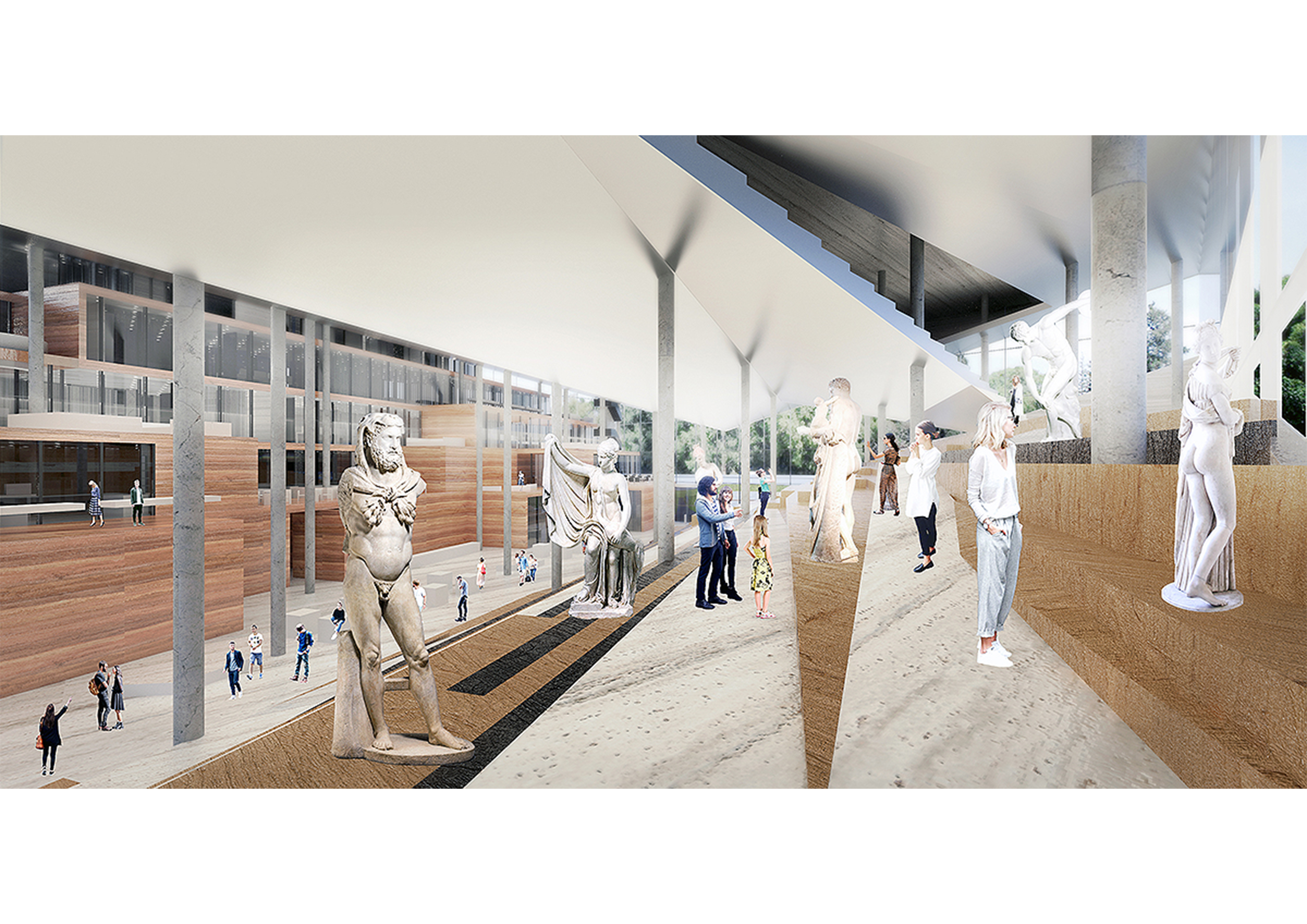 NICOSIA ARCHEOLOGICAL MUSEUM
INFORMATION

location:
Nicosia, Cyprus
client:
Department of Public Works
of the Ministry of Transport,
Communications and Works
year:
status:
competition entry
program:
Museum
total area:
16.000m2
competition team:

Marina Kounavi
Irgen Salianji
Karolina Szóstkiewicz
Roxana Aron
Eugenio Cardoso

DESCRIPTION

Statistic surveys indicate that the majority of visitors in museums are mainly tourists and not people from the local community. This fact raises questions on the different facilities that the museums have to have in order to broaden the spectrum of visitors and being active cultural nodes of a city.

Cyprus is one of the oldest civilizations in the Aegean Sea that is dating back from 3900-2500 BC. Its collection is enormous and will attract people from all around the world. The New Cyprus Museum is aiming to be a meeting point for tourists, academics, students and archeologists in the Mediterranean Sea. The building has to meet the criteria of a contemporary archeological museum and its deign to be innovative in terms of new technologies, research of new curatorial approaches and facilities that could offer.

The museum acts as cultural hub that attracts people to meet, interact and socialize. On a second level, the museum functions as a tourist meeting point, where visitors meet and enjoy a relaxing time, checking out the really big permanent exhibition but also, temporary exhibits, drinking coffee and getting informed for the city's attractions and happenings.

The ground based volume is shifted towards the Venetian Walls and the existent museum connecting them with Pedieos river and the extension of the municipal garden. The position of it is creating an urban passage that is the main entrance of the new Cyprus Museum. Subtracting the volume of the urban passage, we are creating a void that is a placeholder for all the interactive and public program of the building. In the same time the void separates the building into two different podiums that they serve separately public and restricted access functions. The exhibition is on the end of these two podiums working as a connector.